The Castle (XII- XV centuries)
It was mainly built between the end of the XIIIth Century and the beginning of the XIV century. The Architecture of the Castle has a severe and a defensive look. The brightness of the fair Arkose as well as the volcanic grey stone makes it not so obvious.
The main building of the XIII century has got an earlier tower and two more, which were added in the XIV and the XV centuries. The front of the Castle has been restored during of the Renaissance.
The Castle has got 3 surrounding walls and is by it self, a striking military architecture specimen of the XIII century (with towers, curtains, bulwarks, covered ways, crenels and machicolation.
A frame built in the XV century covers the whole of the building.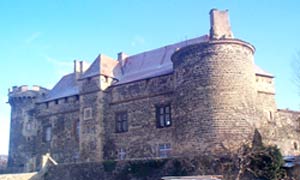 The Castle belonged to the well-known La Tour. Through the centuries, Bernard VII Prestigious chamberlain of the king Louis XI has mainly restored it. The queen Catherine de Medicis, last descendant of La Tour, owned it a bit later.
The queen would stay within the Castle With her son the king Charles IX and all the court in 1566. Later, in 1586, her daughter the Queen Marguerite de Navarre is imprisoned for a few days inside the Castle before being forced to go to Usson. She returned there, free this time, in 1606.
The Broglie Family also staid in the Castle until the revolution and just after the King Louis XIII left.
The Castle, which for more than century was a quiet religious institution, went through, not much later, a very hard period, and was neglected and damaged. The present owners have undertaken a very important program of restoration. As much inside than outside, the purpose of the program is to give back to the monument its past splendour.